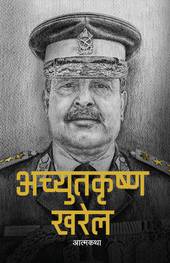 Achyut Krishna Kharel
: An Autobiography
अच्युतकृष्ण खरेल: आत्मकथा
This book is an autobiography of Former IGP Achyut Krishna Kharel. This autobiography reveals how football led him to the police force and then to lead the entire police force. This book also reveals high profile cases like 33 kg gold smuggling, arrest of Former Police IGP DB Lama and former Prince Dhirendra's ADC Colonel Bharat Gurung to the hit and run case of musician Pravin Gurung and many more. Kharel has also written about political intervention in promotion and posting of police officers. He also talks about how a culture of appeasing seniors and reposting officers is practiced within the force. IGP Kharel's story accounts a life of a policeman and also portrays the pitiful situation of the sports sector during his time. Unfortunately, both the situation remains indifferent after all these years.
Format

Paperback

ISBN (Paperback)
9789937921275
Language
Nepali
Edition
First
Genre

Autobiography

(

Biography & Autobiography / Law Enforcement

)

Publication Date
06 Oct 2018
Related Books
GET THIS BOOK
Cash on Delivery for Nepal. No Delivery Charges.
NPR.665/-
Buy Paperback
Buy Paperback from Amazon
२०५३ फागुन १५ मा मोतीलाल बोहोराको पदावधि सकिँदै थियो । म र ध्रुवबहादुर प्रधान भावी आइजिपीका दाबेदार थियौं । त्यही बेला मलाई प्रस्ताव आयो । 'म तपाईलाई वामदेवकहाँ लगिदिन्छु । तपाई २० लाख तयार पार्नुस् । तपाई नै आइजिपी बन्नुहुन्छ, ग्यारेन्टी । 'देउवा सरकार आज हो कि भोलि छ भन्ने हामी सबैले सुनेकै थियौं । भावी गृहमन्त्रीकै तर्फबाट प्रस्ताव आएपछि म दुबिधामा परेँ ।
अच्युतकृष्ण खरेल
लेखक