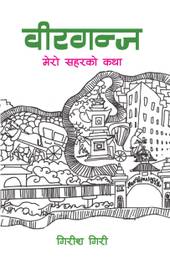 Birgunj
: Mero Saharko Katha
वीरगन्ज: मेरो सहरको कथा
The book recants Birgunj's history, demographics and current situation through the eyes of ordinary citizens, who according to the author are "merely trying to get by themselves". It is like a collage of different characters and series of events in which the Madhes agitation has bound the story. The author has tried to demystify his city for people all over Nepal using the book.
Format

Paperback

ISBN (Paperback)
9789937905886
Language
Nepali
Edition
First
Genre

Non-fiction

(

Biography & Autobiography / Personal Memoirs

)

Publication Date
11 Mar 2016
Related Books
GET THIS BOOK
Cash on Delivery for Nepal. No Delivery Charges.
NPR.425/-
Buy Paperback
Buy Paperback from Amazon
NEWS
काठमाडौं, फागुन २८सहरको बृत्तान्त उल्लेख गर्दै तयार भएको 'वीरगन्जः मेरो सहरको कथा' शुक्रवारदेखि पाठकहरुको हातमा पुगेको छ । प्रज्ञाभवनस्थित डबलीमा..

EVENTS