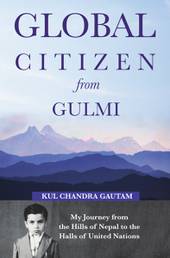 Global Citizen from Gulmi
: My Journey from the Hills of Nepal to the Halls of United Nations
'Global Citizen from Gulmi' recounts Kul Chandra Gautam's journey from a remote village in Nepal, lacking schools, roads and electricity, to the highest ranks of UNICEF. By turns serious, amusing and poignant, it shares the highs and the lows of an illustrious career spanning three decades. It contains candid anecdotes about Gautam's interactions with international personalities such as Nelson Mandela, Aung San Suu Kyi, Bill Gates, Eduard Shevardnadze and King Bhumibol Adulyadej of Thailand as well as UNICEF's celebrity Goodwill Ambassadors. Gautam also shares his insightful views on the future of Nepal, the UN and global society as a whole.
Formats

Paperback

,

Kindle

ISBN (Paperback)
9789937921251
Pages
570
Language
English
Edition
First
Genre

Biography and Memoirs

(

Biography & Autobiography / General

)

Publication Date
07 Aug 2018
Related Books
GET THIS BOOK
Buy Paperback from Amazon
Buy ebook from Kindle
Kindle
Kul Chandra Gautam's life is an inspirational story of how a boy from a remote village of Nepal went on to become the senior-most Nepali in the UN system. Beneath a soft-spoken exterior, Gautam is a man of ironclad convictions and commitment to social justice.
Kunda Dixit
Editor , Nepali Times
PHOTOS
+ 47 photos