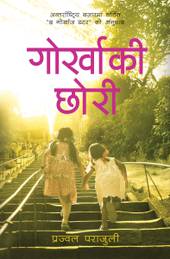 Gurkha ki Chhori
गोर्खाकी छोरी
Nepali translation of Prajwal Parajuly's short story anthology.
Format

Paperback

ISBN (Paperback)
9789937892445
Pages
264
Language
Nepali
Edition
First
Genre

Fiction

(

Fiction / Short Stories (single author)

)

Publication Date
24 Jan 2015
Translator
B. C. Sharma
Translator
Sarala Bhattarai
Related Books
ताजा, सिर्जनशील, विचारप्रधान ... गज्जब
द गार्डियन
दक्षिण एशियाली आख्यानमा नयाँ सम्भावना
बीबीसी
एउटा कृति जसले साहित्यिक संसारमा तरङ्ग ल्यउँदैछ
दी एटलान्टिक
While it is tempting to describe The Gurkha's Daughter as a collection of eight short stories so neat and precise that each story has a map to demarcate the geography of the narrative, it is also easy to be deceived by the simplicity… Prajwal Parajuly's vignettes of the lives of Nepali people are meagre in description but opulent in undercurrents. He writes with severe honesty, dwelling on details only to heighten the emotional choppiness.
The Hindu
Prajwal Parajuly's The Gurkha's Daughter is an expression of the nicer kind. The writing is crisp, the sentences flow and the stories feel real and believable. It is not pretentious. Too many times, writers with the most poetic of prose seem to forget what the objective of a short story or a novel is — like a footballer who weaves and dribbles past defenders, but fails to find that elusive goal. Parajuly, thankfully, does not do that. He achieves the goal with the precision of a passer and the finesse of a goal-scorer, leaving the reader satisfied.
The Telegraph
The Gurkha's Daughter with its quiet irony and fluid writing is the best short story collection you've read in a while.
Hindustan Times
Nepali Stories are being reached far and wide through Prajwal Parajuly's The Gurkha's Daughter. The author can be compared with Danny Boyale of the Slumdog Millionaire fame who took the stories of Mumbai worldwide.
Nagarik News
Prajwal Parajuly's Gorkha Ki Chori gives an impression that the book was written in Nepali at first hand rather than being a translation of his much talked about 'The Gurkha's Daughter'. The book's strength lies in its diversity of capturing Nepali society's life trend and being able to make the readers laugh with small Nepali anecdotes
Annapurna Post