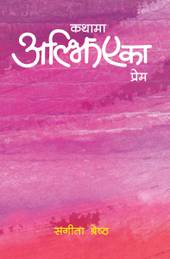 Kathama Aljhiyeka Prem
कथामा अल्झिएका प्रेम
Kathama Aljhiyeka Prem is a compilation of 10 love stories. Shrestha's anthology of short stories, on the theme of love, is based on her successful series of short films Katha Prem Ka.
Format

Paperback

ISBN (Paperback)
9789937905862
Language
Nepali
Edition
First
Genre

Fiction

(

Fiction / Short Stories (single author)

)

Publication Date
20 Feb 2016
Related Books
GET THIS BOOK
Cash on Delivery for Nepal. No Delivery Charges.
NPR.375/-
Buy Paperback
Buy Paperback from Amazon