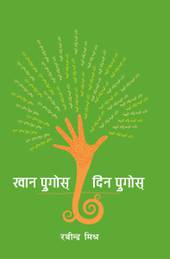 Khana Pugos, Dina Pugos
खान पुगोस् , दिन पुगोस्
Khana Pugos, Dina Pugos is a collection of essays by Rabindra Mishra. The essays primarily focus on the dual themes of 'Practical Philanthropy' and 'Philanthropic Journalism', both of which the writer promotes and practices. The book offers a new approach to the practice of philanthropy and journalism. Like his previous publication, the writer is donating the royalty of this book to support the Chepangs, one of the most deprived communities in Nepal.
Format

Paperback

ISBN (Paperback)
9789937905848
Language
Nepali
Edition
Third
Genre

Non-fiction

(

Social Science / Philanthropy & Charity

)

Publication Date
2012
Related Books
GET THIS BOOK
Cash on Delivery for Nepal. No Delivery Charges.
NPR.375/-
Buy Paperback
Buy Paperback from Amazon
खारिएका चिन्तन तथा अनुभूतिले भरिएका, जति पढ्दै गयो उति पढौंपढौं लाग्ने ५३ वटा रसिला, झरिला निबन्धहरूको सँगालो हो "खान पुगोस्, दिन पुगोस् ।
कान्तिपुर दैनिक
यो प्रत्येक मनकारी नेपालीले एकएक प्रति आआफ्नो घरमा राख्नै पर्ने पुस्तक हो ।
अन्नपूर्ण पोष्ट दैनिक
साहित्यले मान्छेलाई क्रान्तिकारी बनाएका धेरै उदाहरण छन्, तर "खान पुगोस्, दिन पुगोस्" स्तम्भ-निबन्ध संग्रहले मान्छेलाई क्रान्तिकारी होइन कल्याणकारी बन्न प्रेरित गरेको छ ।
नागरिक दैनिक