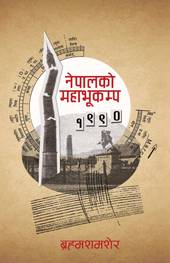 Nepalko Mahabhukampa 1990
नेपालको महाभूकम्प १९९०
This book is an updated edition of the historical book Nepal ko Mahabhukampa 1990 (The Great Earthquake of Nepal, 1990 BS). The book has collected details of losses in the 1934 magnitude-8.4 earthquake, and relief and reconstruction works carried out in its aftermath. The 1934 quake is the greatest ever earthquake recorded in Nepal so far. The first edition of the book was first published few years after that.
Format

Paperback

ISBN (Paperback)
9789937892483
Language
Nepali
Edition
Fourth
Genre

Non-fiction

(

History / Asia / India & South Asia

)

Publication Date
17 Jun 2015
Related Books
GET THIS BOOK
Cash on Delivery for Nepal. No Delivery Charges.
NPR.275/-
Buy Paperback
Buy Paperback from Amazon
NEWS
काठमाडौं, जेठ २९बयासी वर्षअघिको भुइँचालोमा आधारित कालजयी पुस्तक 'नेपालको महाभूकम्प (१९९० साल)'को पुनः प्रकाशन पब्लिकेशन नेपालयले गर्नेभएको छ । लेखक..