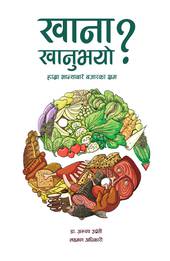 Khana Khanubhayo?
: Hamra Bhansabare Bazarka Bhram
खाना खानुभयो?: हाम्रा भान्साबारे बजारका भ्रम
The book tries to quell the false impression about energy drinks and junk food created by popular advertisements, while delving into negative effects of food items widely available in the market making false promises—from beauty to instant weight reducing gimmicks.
Format

Paperback

ISBN (Paperback)
9789937909068
Pages
216
Language
Nepali
Edition
First
Genre

Health and Fitness

(

Health & Fitness / Healthy Living

)

Publication Date
02 Jul 2017
Related Books