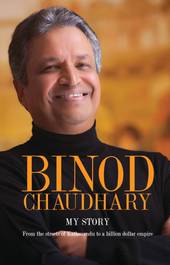 Binod Chaudhary - My Story
: From the streets of Kathmandu to a billion dollar empire
The autobiography covers Chaudhary's life from a student at a government school in Gana Bahal, playing and growing in the streets of Khichapokhari, running a discotheque, pursuing a hobby as a singer and a filmmaker, leading the Nepali business community, expanding beyond Nepal and reaching a place where any other Nepali is yet to reach.
Format

Paperback

ISBN (Paperback)
9789937905800
Pages
456
Language
English
Edition
First
Genre

Biography and Memoirs

(

Biography & Autobiography / Business

)

Publication Date
28 Feb 2015
Contributor
Sudeep Shrestha
Related Books
The fitness fanatic who hikes in the Himalayas controls an international fortune that stretches from Nepal's Nabil Bank to a joint venture with India's Taj Hotel chain.
Forbes
The noodle magnate Binod Chaudhary, known as half-jokingly in Kathmandu as "Nepal's one-man multinational", has long been the country's most prominent businessman.
Financial Times, London
PHOTOS
+ 55 photos