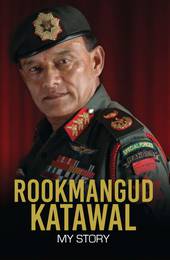 Rookmangud Katawal
: My Story
This book is a story of former General of Nepalese Army. The book includes a sensational opening as 45-page prologue and 11 other chapters that tell the stories of his childhood, student life and career in army, the Maoist conflict, the royal take over, and the events after the Maoists came to the peace process.
Format

Paperback

ISBN (Paperback)
9789937905893
Pages
480
Language
English
Edition
First
Genre

Biography and Memoirs

(

Biography & Autobiography / Military

)

Publication Date
02 Apr 2016
Translator
Bhrikuti Rai
Related Books
Katawal's memoir gives us another insider's account of the events that shaped recent Nepali history.
Kunda Dixit
, Nepali Times
Outspoken and bold, the general's life story is worth reading for more insight and understanding into the Nepalese Army and Nepal's politics.
Lok Raj Baral
Political scientist , The Kathmandu Post
Reading the General's autobiography is, in essence, reading the timeline of Nepal's struggle to emerge as a modern day democracy.
Mikel Dunham
PHOTOS
+ 46 photos